General Information
General Information

Medical Information and Requirements
UK Camps require the following forms to be completed prior to participation:
1. Registration and payment (online preferred)
2. Copy of Physical Form (must be signed by a physician in the last 12 months)
3. Copy the front and back of health insurance card

Please email the form and a copy of your health insurance information to ukmbbcamps@uky.edu.

Payment
Online registration is recommended as the fastest and most efficient form of registering campers. Registration is available online here. Credit cards are accepted online. Any remaining balance is due at camp check-in (cash or check only).

Once a camper's registration is complete, the camper will receive a confirmation email with details of necessary paperwork needed (physical, insurance), along with a list of items campers will need to bring for camp. Any camp-related questions can be called into the men's basketball camp line at 859-257-9457 or 859-257-1916 or by email at ukmbbcamps@uky.edu.

Cancellation Policy
Each camp has a deposit that is dependent upon the camp's price. The deposit is non-refundable except in the case of injury, illness or mandatory school event. If a cancellation is made for any other reason, tuition will be refunded less the deposit if the cancellation is made before the first day of camp. Once the camp session has begun there will be no refunds, except in the case of injury or illness. This includes the cancellation of practices due to severe weather. The convenience fee associated with online registration is non-refundable.

General
The University of Kentucky's camps and clinics are open to any and all entrants (limited only by number, age, grade level and/or gender).

NCAA rules prohibit payment of camp expenses (camp tuition, transportation, spending money, etc.) for prospects (any individual who has started classes for the seventh grade) by University of Kentucky boosters. NCAA rules also prohibit free or reduced camp admissions for prospects. If you have any questions, notify camp officials prior to attending camp.
Parking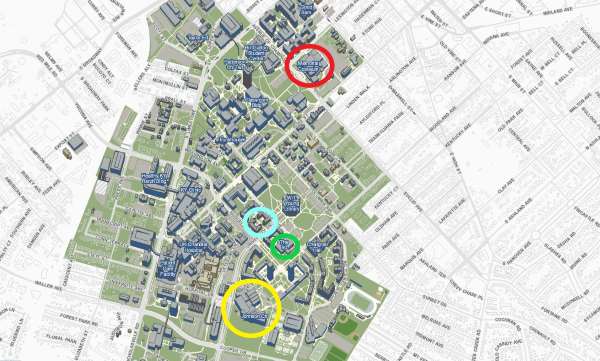 Yellow circle – Seaton/Johnson Center
Green Circle – "The 90" Dining Hall
Blue Circle – Donovan/Johnson Dormitories
Red Circle – Memorial Coliseum/Joe Craft Center